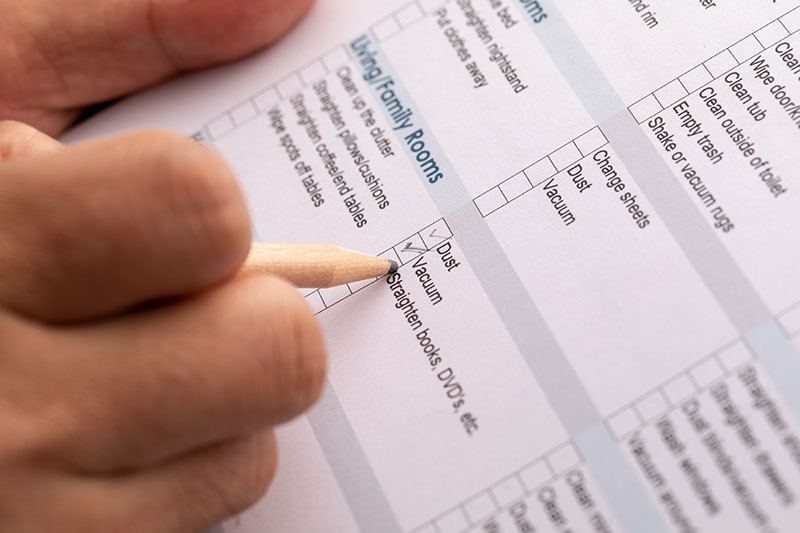 We've all been there. The hard workweek is over, it's Friday night, and we're just looking forward to a quiet weekend spent at home or out with friends. We walk through the door and take one look and realize that a restful weekend is something of a pipe dream. There's laundry to be done, garbage to be taken out, and how long has it actually been since you thoroughly cleaned the bathroom? You can succumb and admit that your weekend is shot, or you can set yourself free by looking into professional house cleaning services.
What to expect when you hire a house cleaning services
Whether you're hiring them for one-time house cleaning or need maid services for recurring cleaning, there's something out there that will meet your cleaning needs. There are a few standard options provided that include a fairly comprehensive cleaning checklist. Below we'll go through the residential cleaning services offered.
Kitchen deep cleaning
Your kitchen is the core of your home, and as such, is often the most in need of regular cleaning. Basic cleaning includes wiping down countertops and appliances like your microwave. The stove, stove hood, and drip pans will be cleaned as well, eliminating the grease and grime to restore a sanitary cooking surface. The green cleaning options provided by most maid services are essential in this food preparation area.
Laundry Room
Another place that house clean up services can make a difference in your laundry room. Even if your cleaning checklist for them doesn't include your laundry, lint, dust, and grime can quickly build up in this area. They'll clean up all the surfaces, scrub your floor, wipe down windows and appliances, etc.
Living Room
One of the mainstays of the housekeeping services is managing your living room. Upholstery will be wiped down and vacuumed, entertainment centre's dusted, floors vacuumed or mopped, etc. They'll get under the cushions of all your furniture and even underneath it. Like the kitchen, this area requires a lot of detailed attention and benefits from green cleaning practices.
Dining Room
Often ordered as a bundle of one-day house cleaning and next day cleaning dining room house cleaning services are a popular holiday option. Everything will be wiped down, polished, vacuumed, and dusted to ensure that your dining room is the envy of your guests… Or at least livable enough for you to come back to after a long weekend.
Bedrooms
A trustworthy provider is essential for these residential clean up services, as they'll be working in one of the most private parts of your home. This is a popular option when you're getting a deep cleaning done on your home. It's even more important renting the space as part of a Home Away, Airbnb, or VRBO property, when you may want to order it as part of next day cleaning for when your renters depart.
Bathroom
Another popular option for house cleaning services is the bathroom. This is one of the least sanitary areas in your home and benefits from green house cleaning practices as a result. From scrubbing the grout to cleaning all the hard to reach parts of your shower and toilet, its definitely a service you want when renting a Home Away, Airbnb, or VRBO location.
Other Rooms
Every room is as unique as the people who live there. If you have spaces not listed here, you're going to want to call your preferred provider. Miss Maid handles all sorts of rooms and can help you organize a cleaning checklist that will ensure all your needs are met.
What if I need other house cleaning services that aren't listed here?
If you're looking for residential clean up services that aren't listed above, you're in luck! Professional cleaning companies like Miss Maid are able to create custom cleaning programs. However, these programs often require an additional time to complete, but this extra expense is often worth it to get your space cleaned to your specifications. The range of extra services that are available will vary from company to company but can include garbage removal, power washing, green house cleaning, and outdoor cleaning options. Make a call to your cleaning provider to find out if they provide the services you need.
Why Miss Maid is the right choice for many households?
If you're seeking a housekeeping services provider that has a solid reputation for standing by its clients through the toughest jobs, call Miss Maid today. They've been proudly serving the communities they call home for years. One phone call will have an assessment team sent out to your location to provide you with a no-cost, no-obligation quote on the services you're looking for. Don't let your free time get eaten by the never-ending job that is cleaning your home. Hire the professionals and get back to recovering from your busy week.